PROLUX DIGITAL LCD SEALING IRON 110V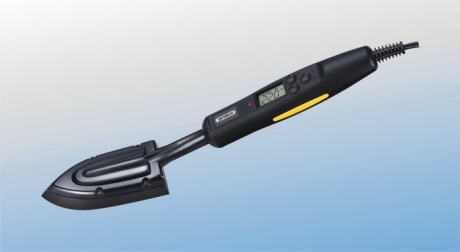 Product Character
1. Providing precise digital temperature control from 100 to 220℃ (or 212 to 428℉).
2. LCD shows accurate current temperature of shoe.
3. Can change the unit Celsius temperature to Fahrenheit temperature.
4. Increase thermostatic-control-accuracy.
5. Perfect for any heat shrink film or fabric covering.
6. New iron shoe makes the covering procedure easier.
7. Teflon coated shoe prevents scratching.
8. Safety metal stand and iron sock included.
9. Special TPR material handle design provides a comfortable handling. It's fitter for ergonomics.
10. This iron will be put out automatically after 6H when it starts.
Although these irons have been available in other parts of the world in a 230V model, Aviation A.R.T. has just recently imported them to the US in a 110V version. They have only been in the US a few weeks and Aviation A.R.T. is working on a website to sell these irons online.
For the meantime you can purchase one by contacting James Housel at Aviation A.R.T. at extension 814-414-9099.
The price will be $49.95 plus shipping. About $7.50 by USPS.